Lawrence Jordan III Named Compliance Officer for National Lutheran Communities & Services
May 31, 2018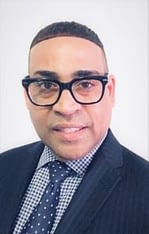 Rockville, MD- National Lutheran Communities & Services (NLCS) named Lawrence Jordan III as Compliance Officer. Jordan brings 20 years of legal experience to the role, seven of those providing services to health care organizations. In this role, Jordan will lead and further develop NLCS' compliance program and drive the organization's strong culture of integrity forward.
"We are very pleased to have someone with Jordan's professional experience, education, and proven track record of accomplishment, as our new compliance officer," said President and CEO Lawrence Bradshaw. "Jordan's appointed position on NLCS' leadership team reflects the importance placed on compliance throughout our organization."
With 20 years in the legal sector, Jordan joins NLCS from T.J. Rock Enterprises, Inc. where he served in a dual role as Corporate Counsel and Compliance Officer, maintaining an effective compliance program enforcing values, policies and procedures. Prior to that, he served as Health Sciences Legal Coordinator at Howard University. Jordan held other positions including Associate Attorney, Law Clerk and Insurance Defense Paralegal. For the past eight years, he has served as Associate Professor at the University of Maryland University College.
Jordan earned a Bachelor of Arts in Rhetoric and Communication from Temple University, an Associate in Applied Science in Paralegal Studies from Northern Virginia Community College and a Juris Doctor degree from California Western School of Law in San Diego, Ca.
"It is my privilege to be a part of the NLCS leadership team, to work alongside talented and dedicated colleagues furthering NLCS' mission in serving seniors," Jordan said. "I look forward to continue the development and strengthening of NLCS' compliance program"
About National Lutheran Communities & Services (NLCS)
Based in Rockville, Md., NLCS is a not-for-profit, faith-based ministry of the Evangelical Lutheran Church in America's (ELCA) Delaware-Maryland, Metropolitan Washington, D.C. and Virginia Synods, serving people of all beliefs. With more than 125-years' experience, NLCS honors, inspires and supports choice and opportunity to seniors through retirement communities, services and programs in Maryland and Virginia. Other communities, services and programs sponsored by National Lutheran include The Village at Rockville in Rockville, Md., The Legacy at North Augusta in Staunton, Va., The Village at Orchard Ridge and myPotential at Home in Winchester, Va., The Village at Providence Point in Annapolis, Md., subject to approval by the Maryland Department of Aging, and Impact1890–A National Lutheran Program. For more information, visit www.nationallutheran.org
###