2021 Stellar 7 Over 70 Awardees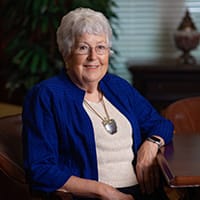 Creative Engagement – Rhoda Kriz
Rhoda creates projects to fill needs in Winchester, Frederick County and beyond. She founded and still leads the Flying Fingers knitting and crocheting group in 2013. Every year they create 200 hats, scarves and ear-warmers, then donate them to needy school children. Rhoda has served a variety of causes, including the Virginia Attorney General's Triad. Every program she works on is carried out with poised and firm leadership, cheerful good humor and unequaled dedication to serving others.
Environmental Awareness – Nancy Mozeleski
Nancy established a group of volunteers named Plarners who transform plastic bags into plastic yarn, or plarn. The plarn is then woven into sleeping mats for unsheltered homeless individuals and low-income preschoolers. Her leadership and organization have led to over 300 mats being donated thus far. One recipient quoted, "this is my most precious possession." All scraps left over are taken to the Trex Company for use in their decking materials so that nothing goes to waste.
Fitness and Health – Mike Perry
Mike enjoys sharing his love of bicycling in unique ways. He has taught local children about safe bicycling, and he restores, repairs and warranties used bicycles and then donates to local organizations. These donated bicycles are often given to those who need transportation to work. Staying in top physical condition allows Mike to lead bicycling tours, fundraisers and even split firewood. Mike donates firewood to those in need to stay warm in the winter.
Intellectual Growth – Cheryl Reames
Cheryl has a love of lifelong learning, which includes training at Johns Hopkins University that enables her to better lead various Parkinson's support groups. She currently serves as the volunteer coordinator of the Greater Winchester Area Parkinson's Support Group. Cheryl also coordinates the local annual Walk for Parkinson's Disease. She also has enjoyed mentoring Little Sisters for the last decade through Big Brothers Big Sisters of America.
Social and Community Involvement – Tricia Simpson
Tricia is a 31-year member of the Rotary Club of Winchester and hasn't slowed down since retirement. During the pandemic, she saw the need to provide food for people staying at the emergency COVID shelter and baby items for struggling families. Tricia wrote grant applications, and once approved, did the shopping and deliveries herself. Tricia is key in her work with several non-profits, and her leadership benefits the community at large.
Spiritual Expression – Rosalie Lewis
Throughout the pandemic, Rosalie has provided insight and assistance to implement health protocols to keep people safe in and around Christ Episcopal Church. Her passion for nursing extends to her serving as a baby cuddler for the Winchester Medical Center Neonatal Intensive Care Unit and as a long- time volunteer at the Adult Care Center of the Northern Shenandoah Valley and a member of its board of directors.
Vocational Connectivity – Karen Shipp
dedicates her free time to assist the less fortunate. She was instrumental in founding the local organization, Wheels for Wellness, originally called Faith in Action. Working with the Winchester Royals since 1986, Karen hosts players in her home and is a past board member. Twice a year, Karen initiates collecting food and money from amongst her church members to assist older adults through the Frederick County Department of Social Services.